Discover more from One First
A weekly newsletter aiming to make the Supreme Court's rulings, procedures, and history more accessible to all
Over 19,000 subscribers
12. The Black-Jackson Feud
Interpersonal conflicts among the Justices are as old as the Supreme Court itself. But the very public fracas between Hugo Black and Robert Jackson was on a level all its own
Welcome back to "One First," a weekly newsletter that aims to make the U.S. Supreme Court more accessible to all of us.
Every Monday morning, I'll be offering an update on goings-on at the Court; a longer introduction to the Court's history, current work, or key players; and some Court-related trivia. If you're enjoying the newsletter, I hope that you'll consider sharing it (and subscribing if you don't already):
---
On the Docket
Perhaps the biggest news out of the Court last week was the first opinion of the Term—in Arellano v. McDonough. Writing for a unanimous Court, Justice Barrett held that "equitable tolling," the principle that statutes of limitations or other time limits can sometimes be suspended for good cause, does not apply to claims for disability compensation by veterans—which usually cannot include time periods predating when the veteran first submitted their claim. The ruling is a fairly harsh one for veterans, but one that, unfortunately, makes a lot of sense in the context of the statutory scheme Congress enacted (which may help to explain why the ruling was unanimous). And because the Justices took the bench to hand down decisions for the first time since February 2020, this was also the first time Justice Barrett had read an opinion from the bench (although those who weren't in the courtroom won't get to hear the hand-down statement until this fall).
The Court also issued a second decision in an argued case on Monday, but this one was a summary "DIG"—in which the Court dismissed as improvidently granted In re Grand Jury (a dispute over attorney-client privilege), ostensibly because the Justices came to believe that the question they thought they had granted certiorari to decide was not properly raised by the dispute. As recently as a decade ago, DIGs were a bit more common. But during the October 2013 Term, the Court began the practice of not (usually) granting cert. petitions unless they had been relisted at least once, a move most assume was meant to give the Justices an extra week to screen cases they otherwise wanted to take for procedural landmines or other obstacles. Nowadays, a DIG is usually a sign that something went sideways only at (or after) the oral argument, and that may be the best explanation here.
In Court-related news, Joan Biskupic reported for CNN on Friday that the Court had failed to note in its leak investigation report that it's had a long-running relationship with Michael Chertoff and his firm, including financial ties that could possibly lead to questions about whether he was the best person to provide an independent audit of the Court's efforts.
And in remarks at Notre Dame Law School last Monday (that were posted to YouTube on Thursday), Justice Kavanaugh, while taking a (well-deserved) shot at US News & World Report's annual law school rankings, also told his audience that things inside the Court are perhaps not as bad as they might seem, praising both of his junior colleagues for their efforts, and noting in response to one question that "I'm optimistic about the court, I'm optimistic about the country, I'm optimistic about my colleagues."
Kavanaugh's comments about the tenor of the Justices' internal relations may have been an indirect response to Steven Mazie's fascinating January 16 essay in The Atlantic, titled "The Supreme Court Justices Do Not Seem to Be Getting Along." Mazie's basic thesis is that, for various reasons, relations behind the scenes at One First Street are more than a little frayed even by the Court's recent standards, and he identifies a host of small but significant pieces of evidence tending in that direction. (It was Mazie's essay that led me to want to write about the Black-Jackson feud below.) Folks can and should decide for themselves which account they find more plausible.
Last week's excitement may be it for at least a little while. The Court has now entered its unofficial mid-winter recess, with the Justices not set to meet again in person until Friday, February 17—and not set to take the bench again until Tuesday, February 21. No regular orders or opinions are expected between now and then, which gives us more time for some (hopefully interesting) SCOTUS history.
---
The
One First
Long Read: Scorpions in a Bottle
"The Supreme Court is nine scorpions in a bottle." Whether that line owes its origins to Justice Oliver Wendell Holmes or Professor Alex Bickel,1 it's been used most often to describe the Court in the mid-1940s—the height of what might be called the "Roosevelt Court." By July 1941, eight of the nine Justices had been either appointed by FDR or, in the case of Chief Justice Harlan Fiske Stone, promoted by him. And among those appointees were some of the bigger personalities in the Court's history—Hugo Black; William O. Douglas; Felix Frankfurter; and Robert Jackson. Indeed, both a 2006 book by William Domnarski (The Great Justices, 1941–1954) and a 2010 book by Noah Feldman (Scorpions: The Battles and Triumphs of FDR's Great Supreme Court Justices) use the relationships between those four Justices as the focus of a study of the Supreme Court during the turbulent and momentous 1940s and early 1950s (Jackson was the last of the four to join the Court and the first to leave it, so his tenure defines the period).
The strength of those personalities may have had a lot to do with the "Black-Jackson Feud," which blew up in the spring of 1946, and culminated with one of the more impertinent public statements ever made by a sitting Justice.
As Professor Dennis Hutchinson details in his eponymous 1988 article in the Supreme Court Review, the Black-Jackson Feud likely had its origins in disagreements between the two Justices over a series of major rulings during Jackson's first four Terms (OT1941–OT1944). But matters escalated at the end of the October 1944 Term, when Black wanted the Court to summarily deny a petition for rehearing that had questioned whether he should have participated in a controversial 5-4 decision (in which a close friend had argued for the side that prevailed), but Jackson (who had dissented) insisted on writing a two-page concurrence in the order that made the issue of Black's non-recusal a much bigger deal.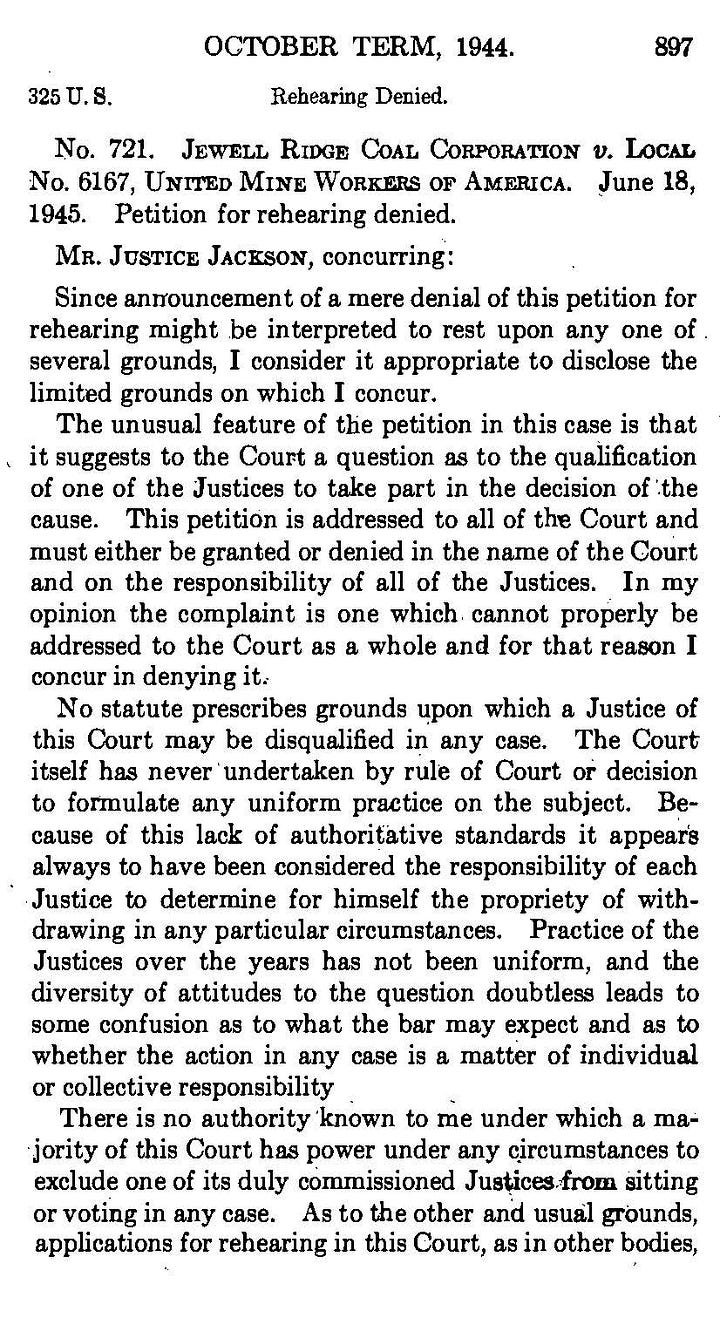 Jackson believed, apparently without any hard evidence, that Black had manipulated the timing of the Court's ruling to favor the plaintiffs, and didn't want to be seen as affirmatively endorsing the propriety of Black's involvement; Black believed that Jackson was giving ammunition to those who thought he should have recused in a context in which the Justices had regularly not done so (i.e., where they were friends with the advocates for one or both sides). And neither man was above using intermediaries and/or friendly newspaper columnists to air at least some of their grievances publicly (if indirectly).
Matters only worsened during the October 1945 Term, virtually all of which Jackson missed—thanks to his appointment as the Chief Prosecutor of the International Military Tribunal at Nuremberg. Jackson's absence not only left the Court evenly divided in a number of contentious disputes; it also required each of the eight remaining Justices to pick up his share of the workload. Black wasn't the only Justice troubled by this reality, but it didn't help to dispel the bitter taste he carried over from the previous summer.
Then, on April 22, 1946, Chief Justice Stone unexpectedly passed away. Although FDR had, in Hutchinson's words, "all but promised" Jackson that he would succeed Stone, President Truman had made no such promises. This led to an intense public and private lobbying campaign, and the spreading of a number of nasty rumors in the Washington press, as interested parties jockeyed to push for their preferred candidate (or against the most obvious rivals). Jackson, who was able to participate in the machinations only remotely from Nuremberg, became convinced that Black (and others) were intriguing against him, although the historical record is a bit more circumspect about the role of Black and other Justices in facilitating the anti-Jackson attacks.
Jackson thus did what he always did: he prepared a draft memorandum setting out his full views on the question of Black's non-recusal in the Jewell Ridge case and responding to some of the more scurrilous media accounts—trying to explain that the contretemps wasn't about personalities, but rather principles. As Hutchinson concluded in 1988, "Jackson's real objection to Black was to Black's judicial philosophy, which he saw as having less to do with conventional legal techniques than with personal preferences. When Jackson tried to recast the criticism—to which he himself was not wholly immune—into a charge of judicial impropriety, he entered a rhetorical thicket from which he never successfully emerged."
Initially, he had the presence of mind to keep the memo to himself; after all, any evidence of intra-Court conflict, whatever its causes, would almost certainly be fatal to Jackson's chances (or those of any other current Justice)—a point Jackson's memo would unintentionally have driven home. But once Truman announced that he was nominating his Treasury Secretary, Fred Vinson, to become Chief Justice, Jackson decided that he could—and should—defend his reputation and respond to the "dope stories" in the press. From Jackson's perspective, because the Chief Justiceship was off the table, he stood to lose nothing from making his position clear. Alas, his wasn't the only skin in the game.
After a private (and unsatisfying) exchange with Truman, on June 10, 1946, Jackson sent a public cable to both congressional judiciary committees, airing all of the hitherto private dirty laundry between himself and Black. As Hutchinson writes, the June 10, 1946 cable is the only time in the Court's history that a Justice "publicly accused another of unethical behavior and of manipulating the decision-making process for personal ends."
It's hard to know if Jackson's missive did anything productive; it quite clearly harmed his (and the Court's) reputation. When it revised the Judicial Code in 1948 to, among other things, put more teeth into judicial disqualification rules, Congress added "that a judge shall disqualify himself if his relationship with the attorneys involved warrants it." But there's no evidence that this amendment was a specific response to Jackson's public accusations against Black. Nevertheless, as Hutchinson notes, "From the day he returned from Nuremberg in August of 1946 until he died in 1954, Jackson was unrepentant for his role in what he called at its height 'the disgraceful brawl.'" Indeed, when the Washington Post invited Jackson to review Merlo Pusey's biography of Charles Evans Hughes, Jackson was surely harkening back to April 1946 in the opening line of his first draft: "Washington adores a funeral—especially if it ushers in a vacancy."
This time, he kept that line to himself.
---
SCOTUS Trivia: Harlan Fiske Stone's Unique Feat
This one goes into the "random" category, but given that he figures in the long read (and that he's the only fellow alumnus of Amherst College to ever serve on the Court—GO MAMMOTHS!), I couldn't resist sharing perhaps the quirkiest of Supreme Court trivia factoids:
Harlan Fiske Stone is the only Justice to ever hold every possible position in seniority on the Court—from junior associate Justice to senior associate Justice to Chief Justice. A number of (longer-serving) Justices have held the second through ninth slots in seniority, and five of the 17 Chief Justices also served as associate Justices. But Stone is the only one of those five who served as the senior associate Justice prior to his promotion.2
---
I hope that you've enjoyed this installment of "One First." If you have feedback about today's issue, or thoughts about future topics, please feel free to e-mail me. And if you liked it, please help spread the word!:
If you're not already a paid subscriber and are interested in receiving regular bonus content (or, at the very least, in supporting the work that goes into this newsletter), please consider becoming one! This week's bonus issue, which will feature the February 2023 installment of "Karen's Corner," will drop Thursday morning at 8 ET.
Happy Monday, everyone! I hope you have a great week.
1
It's clear that Bickel used the line. What's less clear is whether Holmes ever did. The quote has often been attributed to him, but I'm not aware of any primary source memorializing him actually saying it.
2
Stone was the senior associate Justice for only five months—from Justice James McReynolds' retirement on January 31, 1941 through Stone's confirmation to succeed Chief Justice Charles Evans Hughes on July 3.